Who is Theo?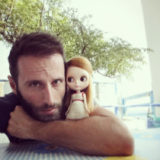 I was born and raised in Athens, Greece.
When I was 16 years old, my grandma died and I decided to move in with my very old grandfather, to look after him. We spent almost 20 beautiful years together until 2018 when he passed away at the age of 106. During those years, I attended university, graduating as a Marine Electronic Engineer and spending 14 years working in ships, a very dangerous, difficult and unhealthy job.
In 2016 I met Yatabazah, and during a visit to his beautiful studio, I met for the first time a Blythe doll. I remember, she was sat on a high shelve, wearing a beautifully coiffed wig, staring at me with huge green eyes. It was love at first sight. "Who IS she?!" I asked him, astounded. "She's Blythe!" he replied and told me of her old and new history. "I must have a Blythe doll!" I blurted out in glee.
A few months later, I was suddenly presented with a surprise gift. My very own Blythe doll, who I named Cara Collins. A new friend! Yatabazah had created her for me, as I had imagined her. That was the start. I started taking her with me everywere i went, photographing her constantly.
Soon, ideas started forming, of things I wanted to create for her, for dolls. I had been working with wood and metal since I was a child, so I started working on things in my free time. I became totally immersed in it, wanting to spend all of my time, creating things for my new friends, the dolls. I decided to quit my job, which had been making me unhappy and now, here I am, designing and building things for your dolls, feeling more at peace and at home, than ever before.
love,
Theo